Introducing Audio Calls: Escalate From Chat to Call
Today, we're introducing an exciting new feature that takes Userlike into a new direction: audio calls.
With audio calls, you can now jump from a Userlike chat into a phone call.
Why audio calls?
Userlike has always defined itself as a modern, intuitive and friendly alternative to the archaic customer communication channels of phone and email.
We've decided to add a calling feature because we realized that by combining chat and phone in the right way, these channels can complement each other and block out each others' weaknesses.
There is a valuable role to play for the phone – just not in the way it's been traditionally used in call centers. As a first mode of contact, phone calls are too expensive for the company and too frustrating for the customer. Service queues are the only way to manage costs and variance in customer requests. And who doesn't hate service queues?
Chat, on the other hand, is perfect as a first mode of contact. It's low-barrier and low cost. But it's not so handy for discussing complex issues, or for building deeper trust and customer rapport. And these areas just so happen to be the strong suits of the phone.
So that's why we've added calling. Not as a first mode of contact, but as an escalation option from chat onwards. Without further ado, let's take a closer look at audio calls.
How it works
Say you're in the Message Center having a live conversation with a web visitor and the topic becomes more complex. Or you realize you have an interested lead on the other side whom you could reel in through some phone-based trust-building.
From the type input actions bar in your Message Center, you select the phone icon. This does not start a call with your contact directly, but it sends them an invitation for one.
Note that only operators can initiate a call, contacts cannot. Calls are highly intrusive. Unlike chats, you cannot handle more than one call at once. That's why the decision to start a call should lie with the operator, not the contact.
Your contact can then decide to accept or reject the call through a card in the Website Message center.
When they accept, a new tab opens up in your operator browser dedicated to the call:
For your contact, a new dedicated browser tab opens up as well:
These new tabs allow you and your contact to keep sending to and receiving messages from the contact in your chat conversation.
Oftentimes, digital conversations aren't either call or chat; they can be both. While on a call, you might mention, say, a relevant product video. You can use the chat to send the relevant link over immediately, so your contact can watch it in his Website Messenger right away after the call.
What's more, for your contact, this new tab offers another benefit: it allows them to keep on browsing your website while they're on the call.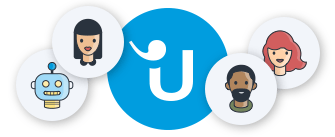 Looking for better customer relationships?
Test Userlike for free and chat with your customers on your website, Facebook Messenger, and Telegram.
Read more
When you're on a call, you're not in a good position to take on any more chats, so that's why an operator won't receive any new incoming conversations while they're in a call.
During the call, you and your contacts can talk from your configured audio source (e.g. headset or speakers), and the same for your customer.
The mobile experience
We're especially proud of how audio calls behave when your contact is using a mobile phone.
With roughly half of website traffic coming from mobile devices, it's an absolute priority to ensure a mobile experience that is as good as its desktop counterpart.
If your customer is using a mobile phone, they can have the phone call as if it were a regular call from their phone.
Again, accepting an audio call opens up a new tab for your contact.
By swiping left, your contact can easily navigate back to and navigate your website, all without losing the connection to your support agent.
What are you waiting for? Call now!
Audio calls are available from our Corporate plan onwards. To offer audio calls, we've teamed up with Twilio.
If you're on Free or Team and you'd like to test audio calls, just start a chat with our support team!
Audio calls carry the potential of making your online business more personal. With them, Userlike is one step closer to bringing modern messaging to your customer relationships.