11 Customer Communication Tools for Building Stronger Relationships
2.6 million years ago , early humans began making tools because they learned there was working hard– and then there was working smart.
Customer communication is essential for every business, so why make it harder than it needs to be? In this day and age, thousands of tools exist to help make customer communication easier and more personal than ever.
Here are the top customer communication tools for you to check out.
1

Helpdesk software
Mode: 1:1
Medium: Text
Mode: Asynchronous
Power use case: Support
Most businesses start out with a shared email inbox. That's all fine and dandy when you're only receiving a few emails a day, but as your business grows, the once manageable amount of emails escalates into a Pandora's inbox .
And that's when you start running into issues . It gets harder to keep track of inquiries–which ones are opened and which are closed, which emails need ongoing contact and who's responsible for doing so. All of these factors contribute to long and frustrating experiences for your customers.
Helpdesk software makes email at scale manageable. It helps you keep track of your emails with features like tagging the responsible agent, status marking and team collaboration.
Solutions:
Email is a crucial part of any business' communication arsenal, but it also has plenty of downsides. As Userlike's founder Timoor Taufig described in Service Is About Conversations, Not Tickets , the helpdesk ticket is grounded in an old-fashioned view on customer relationships; it doesn't fit todays' digital consumer behavior. Better-suited tools like chat and messaging help make customer communication more personal.
2

Website chat software
Mode: 1: 1-10
Medium: Text
Mode: Synchronous
Power use case: Sales & support
Website chat aligns with user behavior and the central position that the website plays in the operations of most 21st-century businesses. It allows you to communicate with visitors directly from your site with the help of a friendly chat bubble at the corner of the screen.
Our research shows that the majority of customers actually prefer getting in touch with customer service via chat. People like it because it mirrors the messaging apps we're already using in our private lives. Its instantaneous and casual nature makes it enjoyable for customers and businesses alike to communicate with each other.
The fact that it's on the website also makes it the perfect tool for raising conversion and generating leads . You can guide the user throughout their entire website experience all from one place.
Solutions:
So now that you've dramatically boosted your amount of leads, how are you going to follow up on them? This is where CRM systems come into play, which come in two formats.
3

Email-based CRM software
Mode: 1:1
Medium: Text
Mode: Asynchronous
Power use case: Sales
CRM stands for customer relationship management . The traditional type is email-based, but today we're seeing many messaging-based solutions appearing. We'll cover those in a bit.
While the features of helpdesk software typically focus on support, those of CRM software typically focus on sales. They allow you to track opportunities in the pipeline and guide them to closure. You'll be able to set reminders for follow-up emails and view a timeline of your communication with each contact in one place.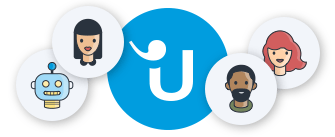 Looking for better customer relationships?
Test Userlike for free and chat with your customers on your website, Facebook Messenger, and Telegram.
Read more
The boundaries between helpdesk and CRM software are fuzzy, especially since modern sales approaches look more and more like support . Still, if you have a dedicated sales team dealing with high-value accounts, they will likely need a CRM solution. These are our favorites:
Solutions:
4

Messaging CRM
Mode: 1: 1-10
Medium: Text & voice
Mode: Synchronous - asynchronous
Power use case: Sales & Support
This is a rather unofficial category, because it describes a new type of tool that's geared toward customer communication via mobile messaging apps.
Messaging use has spiralled out of control over the past decade. Everyday, more and more users are getting on board and joining popular messaging apps, like WhatsApp, Telegram and WeChat. Businesses have been relatively slow to follow, but that's also because many of the major messaging platforms have been closed to businesses. Now that they are carefully opening up their gates, business solutions are popping up.
The main advantage of customer messaging is that it aligns perfectly with our alway-in-contact lifestyle. Your customers already know and love these messaging apps, opening them dozens of times each day. That's a big difference with email; checking your emails is not such an ingrained habit for most.
What's more, messaging takes off the pressure to respond as quickly as possible because once you exit the conversation, your messages are still there for you to respond to whenever you get the chance.
As a newer category, there aren't as many providers yet. At Userlike, we identified customer messaging as a major growth opportunity, which is why we've expanded our software from purely web chat to include these messenger channels . The website to get in touch , messaging apps to stay in touch . As far as we know, we are the only solution that offers this combination.
Solutions:
5

Chatbot software
Mode: 1: ∞
Medium: Text
Mode: Synchronous
Power use case: Sales & Support
Chatbots have been getting all the hype over the past few years, and some of it is definitely justified.
Chatbots help automate support so that visitors can get help at any time. When done right, they take over the more boring, repetitive part of service so that your agents can be working on issues that need greater attention.
Chatbots can work on their own or together with website chat software solutions, like Userlike. If you're curious about chatbots and need some help deciding if your business needs a chatbot, check out our post .
Solutions:
6

Call center software
Mode: 1:1
Medium: Voice
Mode: Synchronous
Power use case: Support
Beyond face-to-face, phone support is the most traditional way of communicating with customers. And while many businesses use this type of communication, it often comes with some pitfalls.
It's often criticized for long wait times, endless forwarding or never ending choice trees that lead to nowhere. Especially for growing businesses, providing phone support can become challenging without any technical management.
Call center software has been developed to minimize all of those issues and help you better manage your phone service to make it easier for both agents and customers.
By implementing a call service software, you'll be able to automatically direct calls into a queue, route calls to specific agents, enable call conferencing and set automatic callback if a call is lost.
Solutions:
7

Newsletter software
Mode: 1:∞
Medium: Text
Mode: Asynchronous
Power use case: Marketing
Newsletters are great for keeping up regular contact with your customers. But managing a newsletter campaign with thousands of recipients can become a little overwhelming if you're doing it straight out of your email.
Newsletter software is a great tool to use to make this process easier and more efficient. It allows you to segment your recipients to customize your campaigns and make them more effective. It also reveals valuable KPIs, like open and click rate.
Solutions:
8

Online communities
Mode: ∞:∞
Medium: Text
Mode: Asynchronous
Power use case: Support & marketing
Online communities can be a resource for businesses to communicate with their target audience. These groups are a great place to share ideas, ask for help with field-specific issues or recommend tools and products.
Some tech and software businesses, like Moz , have started using these groups to facilitate communication between users. This way, users can help each other with questions about the business's product or the larger challenges that the product addresses (in this case, SEO ) and share helpful tips. It's also a great method to respond to any issues customers are having and for getting an overall impression of the issues your customers are dealing with.
Many social platforms like Linkedin or Facebook give users the chance to create groups. For a few years now, Slack, a tool best known for their team communication tool, has also been offering open communities for people to connect. It's become an innovative tool for companies to communicate with their customers and also market the product.
The nice thing about creating a community is that, as an admin, you can decide whether to keep it a tight-knit community or open up your group to a much wider audience. You'll also be able to create rules and guidelines for the group to make sure the scope of the discussions stays relevant and friendly.
Solutions:
9

Customer survey software
Mode: 1:∞
Medium: Text
Mode: Asynchronous
Power use case: Support & marketing
We've written before on the Userlike blog about the importance of customer feedback. Customer survey software allows you to collect it on a consistent and targeted basis.
Your customers are your most valuable asset. Most businesses know this, but there are few that act upon it – investing time and resources into really understanding their customers and what makes them tick. Their struggles, hopes, fears and ambitions.
Depending on the solution, you can limit surveys to your existing customer base or reach out to a larger group of people that aren't your customers but that share their demographics (e.g. Survey Monkey).
Solutions:
10

Review platforms
Mode: 1:∞
Medium: Text
Mode: Asynchronous
Power use case: Support & marketing
The rise of the informed consumer has enhanced the world of reviewing since the early 2000's. Review platforms are aimed at helping the consumer make better-educated decisions about her purchases. But businesses can use these platforms for their own aid, too.
We believe that businesses should be taking a proactive role when it comes to reviews. Reading unbiased, honest reviews of your product is probably one of the best ways to get truly unfiltered opinions about what customers think.
One step further, if you see that a customer is having an issue, responding to reviews is a great way to show that you care that every customer has a positive experience. If you're a newbie at responding to reviews, check out our tips .
The places where you'll be looking for reviews depends on your business, what you sell and where you sell your products. For more tech-specific products, I've listed some important review platforms to consider.
Solutions:
11

Customer sentiment tracking
Mode: 1:∞
Medium: Text
Mode: Asynchronous
Power use case: Support & marketing
Customer sentiment tracking is an essential tool to have in your toolbox because directly communicating with your customers is just as important as knowing what they're saying about you .
Sentiment tracking software will keep you in the know when your brand name is mentioned, along with the tone behind what they're saying. It's especially helpful for larger companies who are mentioned multiple times a day or for businesses whose customers speak a range of languages. Social apps like Instagram, Facebook and Twitter have become popular places for customers to rave (or drag) a company.
By tracking sentiment, you'll be kept in the loop of what people are saying about your brand and can use the information to intervene when you see necessary.
Solutions:
Expanding your customer communication toolbelt
There are plenty of tools designed with the intention of helping you work smarter. Even better, most let you try them out for free before fully committing to a paid subscription.
If you feel like your toolbelt is missing some must-have parts, try out some of these tools and let us know on Twitter how they work for you!