How to Set Up Chat Macros and Boost Your Service Efficiency
No matter how fast you can type, there's no way you can chat as fast as you can speak – or is there? Enter chat macros: the way to beat the system and boost your chat efficiency.
Video Transcription
At Userlike, you can choose from three different types of macros:
Chat Macros – for answering frequently asked questions more efficiently
Push Macros – for sending your customers to other areas of your website
Download Macros – for files your customers commonly need.
Macros in Action
Using macros is easy.
All macros and commands come with an automatic " type ahead functionality " which recognizes what the Operator types and suggests macros accordingly. And don't worry, you don't have to memorize all of the commands, only their first letters.
You can also select the right macro group from your list, then the macro.
For Chat Macros, you can either send the predefined sentence immediately to your customer or use it as a template to adjust in the input field before sending out.
You'll find Push Macros under ' Send URL '. When sending your customers to another page, you'll see the navigation event within the chat session.
Download Macros are found under ' Send Download ' in the menu. After sending the macro, the customer will receive a link she can click to receive the file.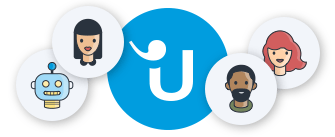 Looking for better customer relationships?
Test Userlike for free and chat with your customers on your website, Facebook Messenger, and Telegram.
Read more
Let's see how to set your macros up in the Dashboard .
1

Chat Macros

These short key combinations trigger chat messages of any length. We love Chat Macros because they save time, increase accuracy, and guarantee consistency.

If you want to set up a new chat macro, just click ' Add macro '.

Give your macro a name, type in a text that should appear when you send it to your web visitors, and choose a macro group that it belongs to.

We recommend to make your key combination resemble the actual message, so it's easier for your team to memorize and find them with the type-ahead function.

It's also possible to assign a keyboard shortcut, if you prefer not to use the macro menu within the Chat Panel.

You can add user related information to your chat macros by using the placeholder function. This can be a handy feature, for example, to personalize your chat support. In case you automatically want to insert your name into your message, just add the placeholder to your chat macro.

But make sure to 'keep it real'. You don't necessarily want your customer to know that you're using a macro as they might feel the personal spirit would be missing the conversation. To prevent this, set up your chat macro in a conversational manner and avoid words you would never use in normal speech.
2

Push Macros

Push Macros are another variation for answering frequently asked questions.

Instead of a predefined message, this key combination sends a Webvisitor to a predefined URL on your website to assist you in navigation.

The process for creating a new push macro is more or less the same as we've seen before. Click ' Add push ' to create a new push macro, and enter the name of the URL.

Keep in mind, if your widget code isn't present on the URL, the chat session will be disconnected.

On the other hand, if the widget is also present at the page that you push the customer to, you can continue to chat as they move around your website.

Select a macro group and save your settings after you're done.
3

Download Macros

Download macros are a fast way to let you share files with your Webvisitor that are commonly requested, for example, a contract or a logo image.

Once you offer the file to your Webvisitor, it will be available as a download link in the chat window.

To create a new download macro, select ' Add Download ' in the upper right, then enter its name. Now you can choose where you want the download to be hosted. It can either be self-hosted or uploaded to Userlike.

Collect the file from your computer's harddrive, the max. file amount for download macros is 3MB.
---
That's it for a quick introduction to our macros. Thanks for watching and happy chatting!