Lead Generation: 11 Tips and One Important Tool
Lead generation, or the process of stimulating and capturing interest in a product or service for the purpose of creating customers, is essential to any business. It's how you build an audience, find people that are interested in buying from you and build a solid foundation for your business's future success.
But how do you succeed at it?
Today we are talking about some main ideas on lead generation that are applicable to any business. We will also be going over some effective lead generation tips that can bring you success.
If you're ready to transform your lead generation results, let's get started.
3 Main Ideas to Keep in Mind About Lead Generation
1. Lead generation "success" is either about bringing more people to your website, or increasing the conversion rate of them.
These are the two main results that all lead generation tips are centered on. If a lead generation action doesn't achieve one of these two things, it is probably not worth your time.
Of course, there are a number of different ways to increase both site traffic and conversion rates . For example, even though "lead generation" can be both inbound and outbound , we prefer inbound at Userlike. Our inbound tactics position us as the solution to our audience's problems, and have a tendency to bring us higher quality leads more likely to convert anyway.
2. Regardless of the tactics you choose to implement, it's important to keep human nature in mind.
Your leads are more emotional than rational. You might have the best offer in your industry, but if you aren't implementing "marketing fundamentals" like urgency, scarcity, and social proof, you aren't going to generate many leads.
Because of the nature of your leads, it's also important to implement empathy. Put yourself in your prospects' shoes: what are their pain points, what are they struggling with and how can you position your business as the best solution to help them? These are questions you should spend some time reflecting on.
3. Lead generation happens across a funnel.
For effective lead generation, it's important to implement specific tips all the way from attracting people to your website to nurturing them over time until they become a customer. This is what's known as a lead generation funnel .
This funnel is a good reminder of an important lead generation concept: it's important to not treat everybody the same. The fact is, people want different things from you at different parts of their journey (see the picture above with ideas for top of funnel, middle of funnel and bottom of funnel content). You need to meet them where they are with the marketing material most suited to them.
11 Actionable Lead Generation Tips
Let's now move onto actionable tips you can implement for your own lead generation. While these are all tactics that are proven to help with lead generation, pick and choose as you see fit.
You know your business better than anybody else does. It helps to dive deep on the two or three most applicable tactics rather than constantly jumping between tips.
1

Use a heatmap tool on your website

Lead generation starts with a good website. In fact, a business's website is often the most valuable asset that it owns for lead generation. It's usually one of the first points of contact a potential customer has with you, and is where they will spend the most amount of time when interacting with you. A shame, then, to not know exactly how they use it.

Thankfully, with a heatmap, you can. By observing where people click, the sections of your site that people skip most, and the areas in which they exit, you gain a deep understanding of how people act while on your website. This allows you to optimize it for the best possible user experience. Check out some heatmap options here .
2

Make a content schedule and stick to it

Content marketing can be a valuable lead generation tool for most businesses. Done right, your content educates your site visitor, builds authority in your industry, and positions you as your audience's trusted guide in whatever problems they are facing.
But here's the million dollar question: just how often should you post? While the total amount of content often correlates with the numbers of leads you can generate, consistency in your content schedule is even more important.
That said, your content calendar depends on your industry and resources. For example, a business consultant might post a short inspirational quote daily. A hair salon chain, meanwhile, might choose to post one lengthy and well-researched article per week on different styling tips. Regardless of the publication schedule you create, just be sure to stick to it. Give this post of ours a read if you need help coming up with your own content ideas.
3

Make it easy to share your content

Once you've created quality content, the next step is to get eyes on it. One of the quickest ways to do that is to make it easy for your audience to share. This amplifies your message and usually brings more traffic to your website. It also has the added bonus of social proof, as a piece of content shared by your audience is more convincing than one your business itself promotes.

To make your content easily shareable, simply put a "share this" button next to all pieces of content. This dramatically lowers the barrier for your site visitors to share what they find useful. For example, we post links to our blog content on our various social media platforms. That's because it's more likely to be shared here than on our blog itself.
If you decide to share your content on social media, be deliberate about which platforms you use. You want to make sure that your target audience is actually there. For example, a B2B software company like ours might heavily utilize LinkedIn, as that's where a lot of our customers are. But with a B2B company selling a less expensive product? A platform like Facebook or Pinterest is going to be more suited to their business model. Check out this article for some more specific tips.
4

Use website chat to communicate in real time with your website visitors

Website chat is everything that email isn't: quick, convenient, and live. This is why your audience prefers it to most other communication channels.

And let's be honest: when it comes to lead generation, website chat is one of the most effective tools you can use. That's because it lowers the barrier for communication between you and your site visitor. You can quickly provide them the help they need, and there are no annoying waiting times or queues to deal with.
With a solution like Userlike, here's one other thing you can do: utilize the power of chatbots . Indeed, chatbots can help your site visitor find the right product by asking about their needs and interests. Chatbots can then close sales...and they can do it 24/7. What's not to love?
5

Use one "call to action" per page

To generate leads most effectively, you don't want to overwhelm them. The action you want them to take should not only be clear and easy to do, but should also be the only action they can take. This has the effect of "funneling" your visitors more effectively to whatever the next step is.

Want them to sign up for your newsletter? Trying to get them to visit your online store? Whichever CTA you use, make sure there is only one of them.
6

Match the lead magnets to the page they are found on

Lead magnets are essential to lead generation. After all, giving your site visitor something in return for their email address is much more effective than a simple "sign up now" prompt.

Still, your audience isn't one and the same. They have different needs, and will often respond differently to the same content. A website that takes a "one size fits all" approach to lead magnets fails to take into account the diversity of its audience. This is why matching lead magnets to landing pages is essential. For example, if you run a fitness blog, here are two different lead magnets you might use to gather email addresses:
A "Healthy Recipes Guaranteed to Shred Fat" ebook, put in the header of all "food" related blog posts
A "Most Important Exercises to Build Muscle Fast" PDF in the header of all "fitness" related blog posts
See the difference? The people reading these two kinds of blog posts likely have different needs and often respond better to more targeted lead magnets. Take this into consideration with your own lead generation.
7

Respond to social media comments
Social media marketing is an important strategy for your lead generation. However, posting on your accounts is only one part of it. If you want to take your results to the next level, make sure to be active in communicating with your audience. One of the best ways to do this is by responding to their social media comments. This proves that you care about your audience and builds your reputation of being responsive.
As for how you respond? While you should always be helpful, you might also try a little humor. This shows your brand's personality and has the potential to build super fans .
8

Retarget people with Facebook ads

While social media marketing in general is important for lead generation (and inbound often the way to go), paid ads can also be an effective strategy. They are guaranteed to be placed in front of more people than your organic posts, and can often drive a ton of traffic to your site if done right.

Depending on your business, Facebook ads are often the most effective type of paid advertising . They target your audience where they are and are also relatively cheap to implement. However, for your best results with Facebook ads, make sure you are running "retargeting campaigns." These are campaigns that target Facebook users that have already displayed an interest in your company by interacting with one of your products (measured by clicks).

During my time as a Facebook ads consultant, this was often one of the strategies business owner running ads didn't know about. Don't make the same mistake. Check out Facebook's guide to retargeting for all you need to know.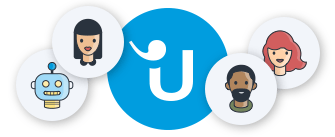 Looking for better customer relationships?
Test Userlike for free and chat with your customers on your website, WhatsApp, Facebook Messenger, Telegram and SMS.
Read more
9

Set up the most important email flows

Even though we prefer website messaging for lead generation, email marketing still plays an important role in how we communicate with our audience. That's because emails give you a unique opportunity to both provide value to your lead and move them closer to becoming a customer over time. This is what's known as lead nurturing, and it's an essential step in the lead generation process .

Don't know where to start? Check out this guide to the most important email flows for most businesses. Here's a hint: if you have a welcome flow and a cart abandonment flow set up, you're doing alright!
10

Set up product trials at the "bottom of funnel"

It's normal that some leads will want to give your product a test run before purchasing. This is especially common if your product is expensive or somewhat complicated to understand.

That's where product trials come in. They are a way for you to demonstrate just how great your product is, and naturally work to take away any doubts or objections your leads have before taking out their wallet. This leads to higher conversion rates from product trials than many other forms of lead generation.

In fact, a product trial is one of our favorite calls to action at Userlike. We often use it at the end of our informative blog posts, which is a good strategy if we've already sold the benefits of our product within the content itself. If you want to try our product trials for your own company, give this guide from OptinMonster a read.
11

Share testimonials to convince prospective customers

People want proof of quality before they buy. Think of your own purchasing habits. How often do you read customer reviews on Amazon before actually purchasing a product? I'm guessing every time, if you are like myself!

The power of customer testimonials is in the social proof they provide. They give your future leads confidence that not only have others already used your product, but they've been satisfied in doing so. If you are looking for the most effective kind of testimonial to use, consider a reverse testimonial . This isn't just praise, but starts off with the customer's doubt. This is much more realistic and mimics the way we talk to each other.
Don't have so many testimonials just yet? Not to worry. Reach out to any past customers and ask if you can write one up with their final approval. Many will be glad to help if you take the work out of their hands. As for where you should put these testimonials? Like this post by Wix says, ​​putting them front and center on your homepage and right next to your different products is always a good strategy. It not only scores you a good first impression with a future customer, but further wins their trust when it comes time to buy.
One lead generation tool guaranteed to give you an unfair advantage
Userlike lets you generate leads naturally from chat conversations, no matter if they happen on your website, or a messenger like WhatsApp or Telegram. That's because our product allows you to guide your customers throughout their entire website experience. After all, website chat is the only channel that is both on-site and real time.
Website chat is also much cheaper than channels like phone service, and has customer satisfaction rates of over 90% . Simply put, it's fast, easy, and more convenient than any other communication channel - exactly what your customers want.
Perhaps most importantly, though, is the "all in one" aspect of Userlike. Our product is based on a "messenger hub" concept. This means that with just the click of a button, you can connect with your audience through webchat, WhatsApp, Facebook, Telegram… whichever platform they prefer. This makes your company more approachable and your lead generation quicker and more efficient.
Want to generate more leads for your company in the next five minutes? Sign up for a free Userlike trial .