Introducing Messenger Channels: Channels to Your Customers' Hearts
We're opening the beta of the Userlike Messenger Channels: Facebook, Telegram, WhatsApp, and SMS -- marking the first step in a major product development. Users of the Corporate Plan and higher can join the beta.
So far, Userlike has been a sales & support tool for website chat. Apps like Facebook Messenger and WhatsApp have however quickly turned into the standard for private communication. Now these and other messenger giants are slowly opening their doors for B2C communication as well.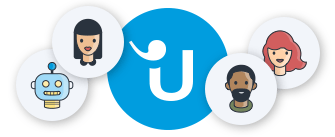 Looking for better customer relationships?
Test Userlike for free and chat with your customers on your website, Facebook Messenger, and Telegram.
Read more
At Userlike, we believe websites and web support will stay as important as ever. But we foresee a future in which they play in harmony with the messenger apps that consumers spend so much time on.
Userlike's Messenger Channels are our first steps towards this future, and they're now open for beta testing.
Facebook Messenger
I spend too much time on Facebook; you spend too much time on Facebook; and guess what? Your customers spend too much time on Facebook, as well!
Connect your Facebook fan page with Userlike and reach your customers on their favorite platform for procrastination. You can already test it out by sending us a message on our own fan page .
It's live for beta testing; contact us if you want to be among the first.
WhatsApp
The world's largest messaging app is ready for customer support. Let your customers add you on WhatsApp, and deliver your service right into their pockets. Not live yet, but reach out if you want to be a beta tester.
Telegram
Telegram's vow for end-to-end encryption resonates with Userlike's values, and it has enabled the tool to grow into one of the world's largest messaging apps.
Connect Telegram with your Userlike account so your privacy-conscious customers can directly reach out for support -- receiving answers on their mobile devices.
You can already reach out to the Userlike team via Telegram. Just send a message to @userlike_bot. It's live for beta testing. Contact us if you want to be among the first to test.
SMS
We are deciding whether there's enough demand to develop this feature. Many regard SMS as an outdated messaging technology, but the truth is that it has never stopped growing -- and in many countries it's still the standard.
Reach out if you want to be on the list as a beta tester.