6 New Office Design Ideas That Will Make You Long for Monday
The days of cubicle farms and cluttered desks are over. Whether you're moving into a new office or looking to refresh your existing one, following some simple tips can help you create an inspiring place to work.
We've always seen our office design as a reflection of our product: fresh, modern, minimalistic. But while product and interior design often share the same principles, they don't always translate to one another.
So when we moved into our new office , we embraced the opportunity to rethink what we wanted our workplace to look like. With the help of an interior designer, we made some changes. Here's what we learned.
The benefits of a new office design
Reimagining your office design can be a costly matter but you'll benefit from the investment in myriad ways.
It was an expensive task, but we knew we wanted to do it anyway because we really wanted the office to reflect our culture at Userlike and our product.

Timoor Taufig, Co-Founder & CEO Userlike
Employee happiness. We spend 1/3 of our life at work . Today's workforce isn't willing to sacrifice their lifetime in an uninspiring workplace like previous generations. Aside from interesting tasks and nice colleagues, your environment plays a crucial part in your job satisfaction .
Productivity. Investing in interior design isn't an end in itself. Naturally, you expect to see a measurable effect from the investment, like a peak in productivity. Studies show that there's a direct link between employee satisfaction and productivity . So if your team is happier, they're likely to be more productive as well.
There seems to be a cognitive process that gets set up when people are feeling good that leads to more flexible, fluent, and original thinking, and there's actually a carryover, an incubation effect, to the next day.

Teresa Amabile, Harvard Business School
I'll dive into the details of how you can further propel your team's productivity with a smart office design later in this post.
Employer branding. Before social media, how your office looked had little to no influence on the applicants you'd attract. In the age of Instagram, however, you can use a beautiful workspace to your advantage. Showcasing your office as an attractive place to work – like Slack or Squarespace are doing online – helps position your company as a top employer. This makes it easier for you to both acquire new talent and increase your employees' pride in working at your company.
However, we still see the biggest impact in real life. Since our redesign, we've received a lot of positive feedback from applicants who have visited our office for a job interview.
Credibility. Although Userlike is still a small company, many large organizations use our live chat software . Industry leaders such as BMW or Lufthansa might doubt trusting a startup like us. We all know the stories of famous companies that started out in a garage , but you would have a hard time convincing customers of your legitimacy if you invited them to a place like that.
Speaking from our own experience, a thought-out design is indispensable before welcoming clients to your office.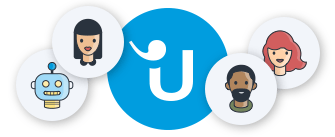 Looking for better customer relationships?
Test Userlike for free and chat with your customers on your website, Facebook Messenger, and Telegram.
Read more
Now let's dive into the best new office design ideas! Here's what our journey looked like and all you need to know for creating an office design that looks great.
1

Create that cozy feeling

The lines between personal and office design preferences are overlapping more than ever. The current workplace aesthetic moved further away from " The Office " and closer to Brooklyn-based hipster oasis.
Bright colors. The classic white wall is simple yet modern and inspires the feeling of a blank slate when entering the office. In contrast to heavy patterns, white is a risk-averse wall color that most people can agree on.
Our desks are a bright eggshell white to keep the furniture consistent with our clean style. For a more lively touch, we recommend having a visual highlight, such as an accent wall in a vibrant color or exposed brick.
Decorations. " But it feels soulless " is a common negative reaction to the all-white aesthetic. There's a thin line between fresh and sterile. One way to fight this is by adding decorative accessories that let your personality shine.
2

Boost productivity

Get rid of productivity killers and make room for a smart office design that increases team collaboration and efficient working styles.

Kaizen. Long before organizing guru Marie Kondo helped us tidy up our homes, there was Kaizen , the Japanese philosophy for constant process improvement. One key element in Kaizen is eliminating waste. Try to keep your office environment clean and organized at all times. When you're done using something, put it away.

At Userlike, everyone has their own cardboard box where they can store items like notebooks, paperwork and personal belongings. That way, we keep our desks free of clutter and create an ideal environment for undistracted flow.

Working zones. Laptops have brought mobility to the workplace. Since you're not bound to your desk, you have the freedom to choose where you want to work. However, traditional office designs make this new way of working difficult.
For more mobility, reimagine your office space as different zones instead of dividing rooms by department. This is also a great way to break silos and bring your team closer together. Some tips on setting up working zones:
Before creating a zone, think about the kind of work that will be done there. Playful environments stimulate creativity while cleaner ones are suited for focusing.
Apply different design concepts for each zone to give it a certain character. For example, we made our hangout zones such as the kitchen and basement more colorful than our production zones.
Furniture like sideboards or large plants can help separate zones.
3

Support healthy working conditions

Ergonomics. When you're sitting at a desk for eight or more hours a day, ergonomics can't be an afterthought or privilege. High quality office chairs sure have their price but they're a vital investment. We chose HermanMiller chairs for our team, and you can find these and more options in this post .
Everyone in the office has the same chair, whether you're a founder or an intern. We want everyone to be as comfortable as possible considering how much time we all spend sitting at our desks.

Timoor Taufig
You've probably heard that " sitting is the new smoking ." On average, people spend more time sitting than sleeping. Even a high quality chair can't fight the horrendous negative effects this poses to our health. Research suggests that sedentary time should be replaced with physical activity to mitigate the health threats.
Following this recommendation isn't so easy when you're working an office job. Yet there are still ways to get your team out of their chairs.
Encourage options for working in different positions, for example with standing or sit-stand desks.
Do walking meetings and turn short meetings into stand-ups.
Promote physical activity by setting up a (temporary) office gym .
Free fruits and water. Making healthy food accessible supports the development of better eating habits. When you're craving something sweet, quickly grabbing a fruit in the kitchen is easier than leaving the office to buy a doughnut. Healthy eating has a proven positive effect on productivity and reducing sick days so it's not only beneficial for the employee, but also the employer.
Same goes for water. Drinking enough water is critical to mental and physical performance . What's more, when water is the only drink that's offered free of charge, you discourage the consumption of unhealthy drinks like soda.
4

Build a community

When gathering new office design ideas, think not only about creating a great place for work but also one that strengthens the bond of a tight-knit team.
Leisure area. Formerly a cliché you'd find at VC-funded startups, playful amenities like a foosball table are now a common sight at new and traditional companies alike . Encouraging your team to spend time together playing creates a better team dynamic and builds camaraderie.
Try to clearly separate your leisure area from potential working zones. That way, you can enjoy playing an intense match of foosball without disturbing anyone. If this is not possible, I recommend setting clear rules for potentially disruptive games like only using them during lunchtime and after 5 p.m.
5

Conquer open-plan office challenges

The open-plan office seems like the modern office wunderkind, promising to boost collaboration, spark ideas and eliminate silos once and for all. However, recent studies show its dramatic downsides . In a nutshell, people actually collaborate less and productivity decreases in open-plan offices.

Ouch. So how do you effectively build a workplace around this open style?
Rules. You probably chose an open-plan office with only the best intentions in mind. But if everyone were to visit their coworker's desk and talk things out, reaching a flow state would be impossible.
Collaboration is great, but we noticed that it's necessary to put a cap on it. Basecamp brilliantly compared the open-plan office to a library , showing that open spaces aren't generally doomed to fail – as long as you embrace the right rules.
To prevent constant noise, reserve mornings for silent working.
If you have to discuss something with a colleague, reach out to them on Slack first.
Equip your team with little helpers like noise-cancelling headphones.
Have long sales calls and webinars in a meeting room, not the open office.
Find more tips on how to keep your team's productivity up in this post .
6

Go green

Sustainability has become a major trend in design. While many of us are trying to live a greener lifestyle at home, it's often overlooked in the office. However, it takes just some small tweaks and habit changes to make your office more eco-friendly.
Paper. The paperless office is finally becoming a reality in the modern workplace where most of what you do happens online. As an example, our project management has gone fully digital. Switching to an online tool like Asana helps you keep your desk free of clutter and reduces paper waste.
It's more efficient for us that way. We don't have to write it on paper first and then copy it onto the computer - and it's also a great way to be green

Timoor Taufig
Lights. LED lights are a great example of a product that's both green and stylish. Not only does the Edison Bulb fit our current vintage aesthetic but it also requires about 80% less energy than traditional incandescent bulbs .
Reusable products. Stock your office kitchen with nice coffee mugs and reusable food containers. This makes it easier for your team to adapt an environmentally friendly BYOM habit instead of using plastic dishes or single-use paper cups.
I recommend reading this post for more tips on how to make your office green.
We'd love to give you an office tour, so if you happen to be in Cologne, just shoot me a message !