Using Slack for Customer Support – 8 Tips, Tools & Ideas
If you found this post, there's a good chance you love Slack. But is Slack also a good tool for customer support?
It's not, according to GoSquared in their post about why customer chats don't belong in Slack . Their main points in a nutshell:
Slack's interface is built for team collaboration, not customer communication
Slack's channel setup gets messy fast, as new channels are opened up per customer and multiple people can jump in on the conversation
Crucial customer chat history gets lost in the chat flow
We agree: Slack isn't optimal for direct chat with customers. But we're still convinced that Slack can be great for customer support, which is also why Userlike is one of the many support solutions that built an integration with them.
Above all else, Slack is good for boosting your team's responsiveness . And responsiveness is largely what customer support is about .
Here are 8 tools, tips, and ideas for using Slack for customer support.
1

Connect your help desk solution

You can find Slack integrations for most of the bigger help desk solutions –e.g. Help Scout , Groove , Zendesk , Desk.com .

The benefit of connecting your helpdesk with your Slack is that your team will receive instant notifications about new tickets, ticket updates, assignments, etc. This can radically reduce your response time.

Slack recommends to make use of emoji reactions to communicate the current status to your colleagues. When you take a look at it, comment with the "eyes emoji". When you answered the ticket, use the "checkmark emoji".
2

Connect your chat solution

So we agree that Slack isn't a fit for direct customer chat. That doesn't mean you shouldn't connect your live chat solution, though.

Userlike's integration with Slack , for example, sends chat event notifications to your channel of choice – like an offline message or chat rating (e.g., "Jane received a 5 star rating. 'Great service!'"). This keeps your team in the loop and increases the visibility of the great work your service team delivers.

Another way to connect Userlike with Slack is through our native chatbot Chat Butler . We built this bot to (1) relieve teams from the need to always be online, and (2) to take over the 'repetitive part' of the service process.

When you're not online, you can set up Chat Butler to welcome your web visitors, collect their question and contact info, while simultaneously sending notifications through your Slack channel that a chat is waiting. If someone replies on the call and comes online, Chat Butler forwards the chat to her. If no one comes online, Chat Butler turns the question into a ticket instead.

If you'd like to give a try, just sign up for a free trial .
3

Build up a customer community on Slack

Customer communities can be a great way for customers to help each other, and for you to jump in where necessary. If you're a B2B business and many of your customers are using Slack, Christina DesMarais argues that you could set up a dedicated channel for customer questions.

The advantage of a Slack-based customer community is that your customers can easily use the "search" function to see whether their questions had been asked and answered before.

If you're interested in doing this, we'd definitely recommend you to start with a trial with a limited number of customers. Things could easily slip into chaos otherwise.
4

Connect your phone support tool

Like with chat support, with phone support it's helpful to stay in the loop about your customer interactions. If you're using a voice over IP solution, there's a good chance it'll have an integration with Slack.

If you're using Talkdesk , for example, you can configure alerts for any slack channel based on call center events. Like when a calling queue exceeds 10 calls, or when a customer leaves a voicemail.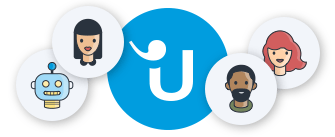 Looking for better customer relationships?
Test Userlike for free and chat with your customers on your website, Facebook Messenger, and Telegram.
Read more
Other phone support integrations you could use are Ottspot or Yodel .
5

Stay up to date about customer satisfaction with Customer.guru

This is a Slack integration with a tool that measures your Net Promoter Score (NPS) . NPS is a simple survey question that measures on a scale from 1-10 how likely your customer is to refer your business to a friend, colleague, or family member.

Connecting it with Slack updates you about survey results in real-time.
6

Let UserGems notify you about important customer signups

This one is useful for online businesses with a registration form. When someone important –like an influencer, journalist, or investor– signs up, UserGems immediately notifies you through Slack.
This allows your Customer Success team to prioritize their support accordingly.
7

Answer email, Twitter & Facebook messages from Slack

Wherever you have a social presence, customers will reach out to you. Boost your social service responsiveness by receiving Slack notifications for these customer inquiries.

MailClark is an excellent app to answer such messages without leaving Slack. It allows you to send & receive emails, Facebook, Twitter and Google Groups.
If Twitter is your only social support channel, you can also just use the Twitter-Slack integration – although this doesn't allow you to respond directly from Slack.
8

Connect your CRM solution

CRM solutions might be more of a sales thing, but in plenty of organizations the lines between sales and support aren't so clear-cut.

Most CRM Slack apps notify you about sales targets and won deals. At Userlike we're happy users of Pipedrive's DealBot , who notifies our Customer Success team when a deal was won–with details on the customer, monetary value, and deal owner.

This is by no means a definite list of ways you can use Slack for customer support. I'd recommend you to take a look at Slack's own suggestions , as well as their library of customer support apps .